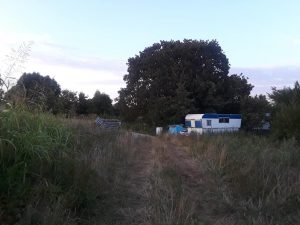 We currently live in campers, but plan to build actual "OffGrid" type houses and/or cabins. We also use campers and box trucks for storage and animal shelter.
For example, I just bought a $200 fifth-wheel camper that was previously used for a dog house and the fifth-wheel to install into the back of the truck. Now I just need a truck that can pull it… lol
David-Ray was going to clean it up and live in it, I wanted to use it for a chicken coop. Eventually, David decided he didn't want to live in it, so we turned it into a cat house for our cats, and we will also be using it for storage shed as well. The front part will be to acclimate new cats to the land, the back half will be for tools and whatnot.